Everyone loves a good deal & extra discounts! By earning and accumulating reward points under this program, you get to enjoy greater discounts on your purchases with us! Now, shall we move on to talk about how you can be a part of our program?
How to Join Our Reward Points Program? 🤗
Being a part of our Reward Points Program is actually very simple. All you have to do is to sign up or create an account with us on our website as a new member and voila! After doing so, you can be on your way to start earning points with us!
How can you earn points? 😍
Create An Account
Upon creating a new account with us, you will instantly receive your first complimentary 10 points (1 Point = $1) as a new member. The amazing news is, you can use these points to get $10 off on your first purchase. Now that your first 10 points are used up, how can you earn more reward points subsequently?
Refer A Friend
By referring us to your friends, you'll earn 10 points for every friend who creates a new account and subsequently makes a purchase with us.
Write Reviews
Write a product review on our website & earn 5% of the particular product's price in points for every completed review. To successfully earn the points you deserve, simply post your review within 14 days after delivery. Remember, only reviews about products you purchase from us are eligible for points!
Of course that's not all! You'll also earn 5 points for leaving us a review on Google Reviews.
Birthday Points
As a birthday treat, we will credit 5 points to your account on your birthday!
Now that you know how to earn points with us, let's move on to the most exciting part that you will definitely look forward to. That is, using your points to get discounts on your purchases!
How to use the points earned? 🏆
Now that you've earned reward points, its time to spend them! Well, you are free to redeem them when you are placing an order with us! While making your purchase, follow the check out process accordingly and you'll arrive at a page as shown in the image below.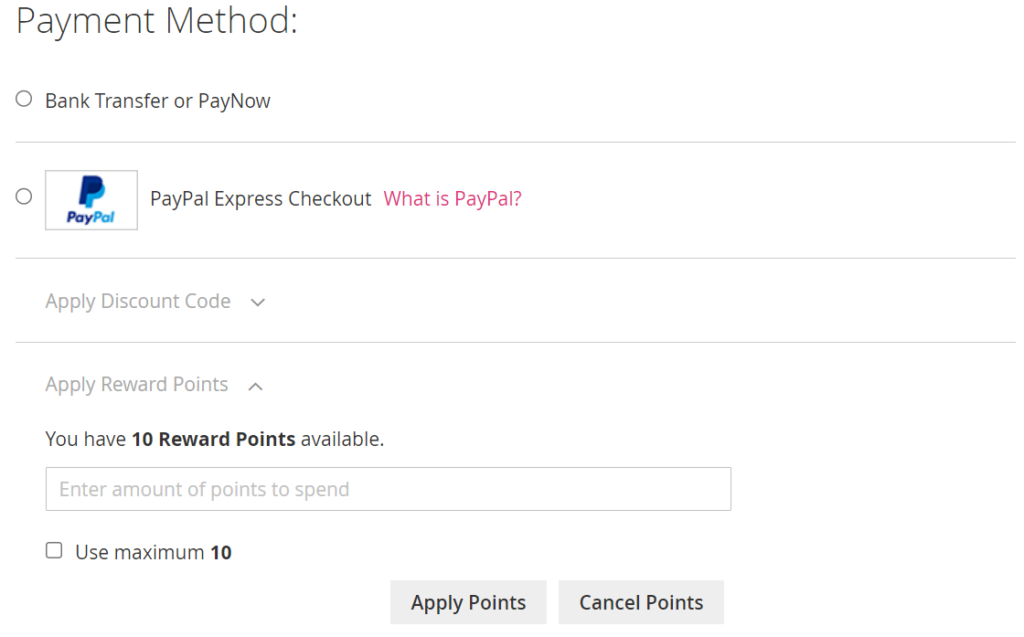 See the words 'Apply Reward Points'? Now that's where you can use your reward points – simply click on it and indicate the amount of points you wish to apply. Tada! You'll notice that the corresponding dollar value (1 point = $1) is deducted from your order total. Super simple and convenient right?
Sign up today! 📣
What are you waiting for? Create an account with us for free today and start earning points to get big discounts in return!