Ho-ho-ho! The season that we have all been waiting for is finally here! Usher in the festive Christmas season with new furniture pieces to spice up your home and host guests. In this blog, look forward to knowing more about gorgeous furniture ideas for your home to enjoy the perfect Christmas.
Premium Sofas
With family and friends over for your Christmas celebrations, I'm sure you want your home to look its absolute best to host them. Consider unique sofa upholsteries like velvet and hi-tech fabric to sprinkle a luxurious touch in your living room. Not only do they look wonderful, but they also provide maximum comfort for you and your guests. Definitely something you would want to keep in your shopping list to impress your guests this Christmas!
Storage Sofas
Christmas would be incomplete without having your friends and family gathering around to exchange gifts among yourselves. To do so comfortably, you definitely want a spacious and decluttered area. Well, storage furniture takes care of it for you! With your items stored well, you will have the perfect space to happily exchange and open gifts with your loved ones.
Coffee Tables
Level up your living room with small and functional furniture items like coffee tables! They provide extra space for your Christmas decorations and snacks like candy canes and gingerbread cookies. For added beauty and elegance, opt for coffee tables with sintered stone tabletops. Just imagine how outstanding it will look in your home!
Rugs
Rugs are a home décor accessory you simply cannot miss out when styling your home. Having a rug in place greatly adds to the warmth of your place, giving your guests a cozy atmosphere to lounge in. Be sure to get one that complements your main furniture pieces for a more complete look!
Display and Storage Cabinets
If you are looking for more storage spaces, what better way than to get a storage cabinet? Or even better, one that comes with a display area for your Christmas decorations. With a beautiful furniture piece like this, you are truly getting the best of both worlds!
Dining Tables
What's a Christmas celebration without a sumptuous feast? With the amount of delicious food, you definitely need a proper dining area for you and your guests. Consider gorgeous dining tables with sintered stone tabletops to add to the Christmas atmosphere and aesthetics of your home. If your space is compact, extendable dining tables would work perfectly for you. Open it up to comfortably accommodate your guests and easily convert it back once you are done.
Conclusion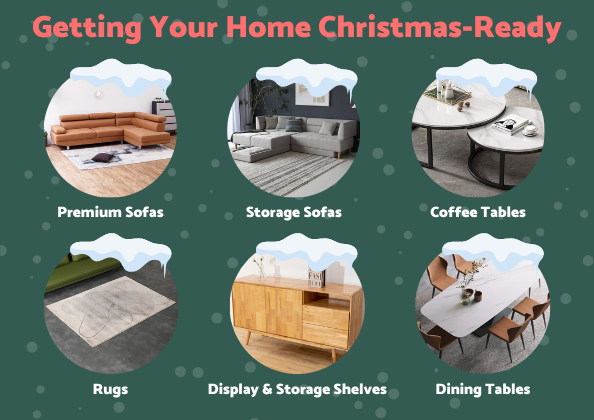 There you go – 6 furniture ideas for you to get started with your Christmas shopping! Keep this in mind and your guests are bound to be 'wowed' when they visit your home. Hesitate no more and get these furniture to enjoy a wonderful Christmas celebration in the comfort of your home.
Shop our wide range of furniture on BEDANDBASICS today!
Also read: How to Make Your Home Inviting for Guests