With the significant ease of COVID-19 restrictions, we are now able to hang out with our loved ones more regularly and bring back the lively atmosphere that once exuded from our homes during gatherings or celebrations before the pandemic. It's time to make our homes guest-friendly again!
We have put together certain furniture options that not only improves the presentation of your home, but more importantly, accommodates your guests and provides them with a guest-friendly environment.
Sofas
L-shaped/Sectional Sofa
A gathering with your family or friends will most likely involve a group of say 5 to 10 people, or even more than that, so there should be sufficient seating for them. Instead of typical 2 to 3-seater sofas, you should consider one with more seating options.
Modular Sofa
Alternatively, you can look into providing more flexibility for your guests with a modular sofa with flexible layouts. This would consume lesser space in your home as compared to a rigid sofa which has limited flexibility.
Storage Sofa
If your home is cluttered with many items, a sofa that can keep them out of sight would be ideal for you. Not only will your home appear tidy to your guests, but also gives your miscellaneous items a proper storage space.
Premium Sofa
Do you want to leave your guests feeling 'wowed' by the appearance and comfort of your home? Look no further than a premium sofa which can give your home an added touch of luxury!
Accessories
Think about it: Would a living room appear complete with simply a sofa acting as the centrepiece? The answer is no and that is why it is equally important to look for complementary accessories for a finished look.
Rugs
Rugs are a great way to offer different textures and colours as well as accentuate the appearance of your home. When choosing rugs, pay attention to the sizing as it affects how spacious or cosy your house appears. The colours are also important because you want to make sure that the colours in your living room do not clash.
TV Consoles
With guests over, you would want to avoid having a messy space with your personal belongings lying all around. A TV Console is a good way for you to store your items and place your TV at a suitable position to keep your guests entertained – killing two birds with one stone.
Dining Table Set
With food and drinks being must-haves when hosting guests, a proper dining area is just what you need for them to enjoy their yummy foods.
Conclusion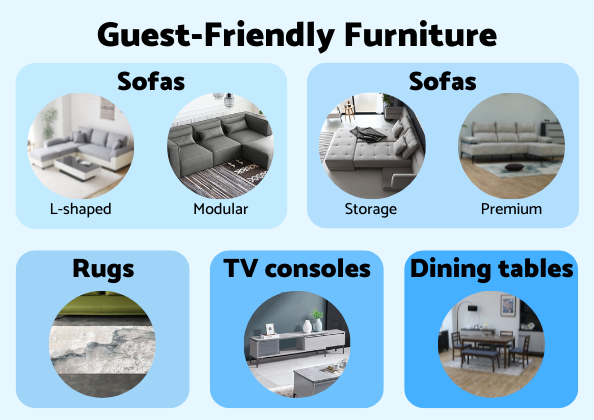 With that being shared, hopefully you have gained a better idea of how you can select the ideal furniture to make your home more guest-friendly and ensure that your guests experience extreme comfort.
Shop our wide range of furniture and accessories at BEDANDBASICS today!
Also read: Ultimate Guide to Sofa Materials