Sofa shopping isn't easy. There are so many factors to consider such as size, firmness, design, and function. Sofa material affects many of these and is one of the most important parts of any sofa, so let's explore this together!
Fabric 
Let's start off with the most common of sofa materials: Fabric! 
What is fabric? It's cloth or other material produced by weaving or knitting fibres.
Fabric is well known for its softness and overall being more comfortable than leather. Often used to achieve a contemporary look with its many available hues and designs. This wide selection comes with the downfall of fading colours because of frequent washing, excessive use and, of course, time.
Fabric comes with yet another issue of accumulating dust mites, pet dander and other allergens. If you've got allergies, you'll have to turn to professional cleaning, or you have to frequently clean your furniture.
Faux Leather 
Faux leather is artificial leather, usually made of polyurethane ("PU"), polyvinyl chloride (PVC – "Vinyl") and silicone.
Like animal leather, faux leather is firmer and heats up faster than fabric, becoming warm after you sit for a while. Sleek and classic in appearance, bring elegance into the room with a faux leather centrepiece. Faux leather's colour lasts longer but always comes with a slight sheen, so make sure you're a fan of that before making your purchase!
Faux leather is hypoallergenic and ideal for people with allergies. They don't gather allergens easily and dust mites aren't a concern.
Velvet 
Velvet is a type of woven tufted fabric in which the cut threads are evenly distributed, with a low density of fibres.
Velvet is well known for its smoothness, both in look and feel. Soft like fabric, it is more comfortable than faux leather. The colours that velvet is available have far more depth and excitement then the usual flat cotton or linen fabric. Another advantage it has over its fabric counterparts is that it is very difficult to snag as it has no loose threads or raised weaves.
Velvet isn't without its cons. It is more likely to attract pet hair and dust than regular fabric, making it even more of a nightmare for those with allergies than fabric already is. Soaking up liquid fast, any spills must be avoided or at minimum dealt with instantly. Sunlight can also weaken the fibres, so it is recommended to avoid positioning them in sunny areas.
Stain Resistance 
Whilst this isn't exactly a material, it is an important feature to consider when considering sofa materials. Stain resistance means that a material can resist discoloration. 
All in all, your ideal sofa is based on your preference, but we hope to have helped you make an informed choice!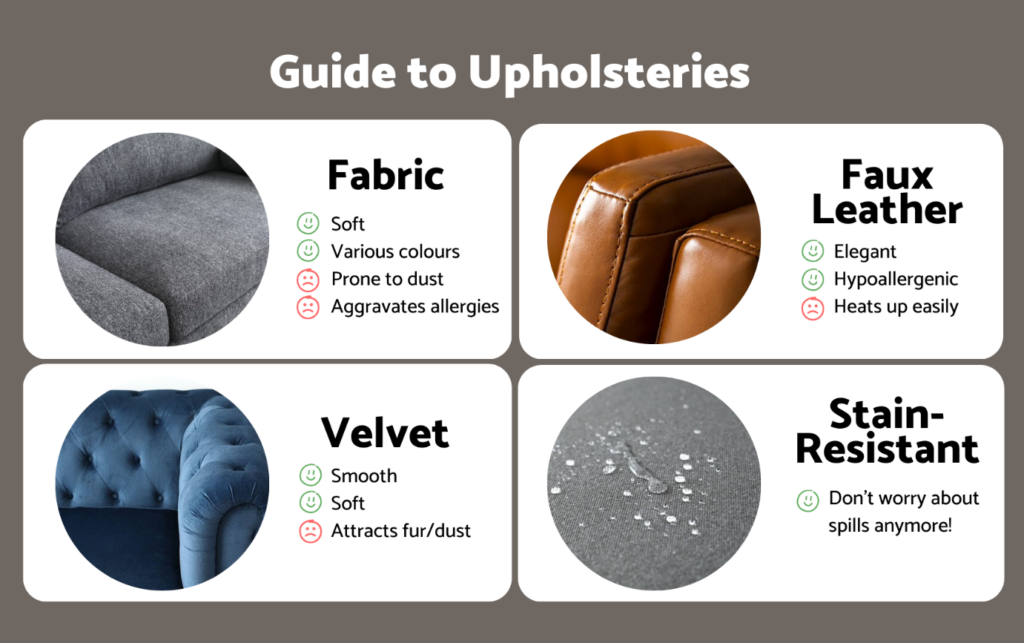 Not sure about maintaining your newfound sofa? Check out our blogs "How to Clean Your Fabric Sofa" and "Maintaining Your Faux Leather Chesterfield Sofa: A Handy Guide". 
Shop sofas and more at BEDANDBASICS today!