Finding the perfect mattress is arguably one of the most important aspects of getting a good night's rest. Just like how Goldilocks found her porridge, you deserve to find the perfect mattress that fits you and your needs.
This task can be daunting and overwhelming with the many mattress brands, types & features, so let's break down this process together!
How Do You Sleep?
Let's start this journey with you! Do you most often sleep on your back, side, or stomach? Maybe you constantly change positions throughout the night? Here's a breakdown on what will work best for you!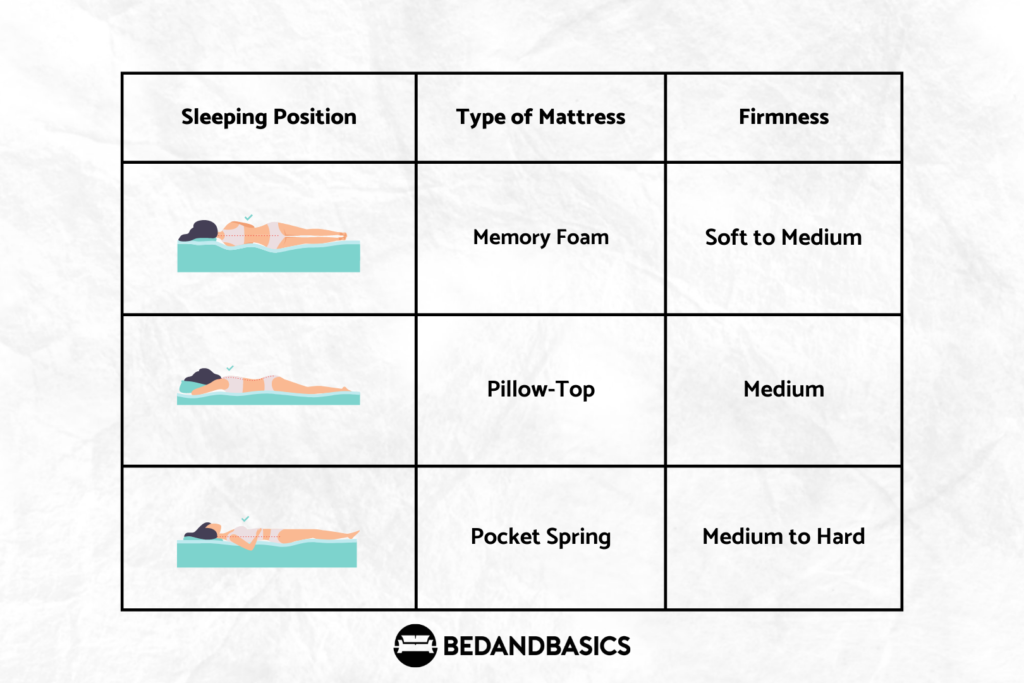 Side Sleepers
Side sleepers need cushioning to relieve pressure on the hips and shoulders, but a mattress too soft would let the abdomen sink in, so a mattress of soft to medium firmness is recommended, such as memory foam & latex mattresses.
Memory foam mattresses have longer lifespans than their pocket spring counterparts. They respond slower to pressure, conform to the sleeper's body and are great for bed sharing because they limit motion transfer. Their softness is ideal for side sleepers!
Back Sleepers
Back sleepers need a mattress that supports the body on an even plane. Adequate cushioning is important to prevent pressure from building up against the spine and hips. We suggest a mattress with light contouring, such as a pocket spring mattress.
The coils of spring mattresses can support and move with you, reducing sinking whilst allowing air to circulate which prevents heat from being trapped.
However, simpler spring mattresses may be less capable at limiting motion transfer, a possible issue if you are sharing your bed. Springs may also create noise with movement. With an average lifespan of 8 years, spring mattresses are not as long-lasting as other mattress types.
Stomach Sleepers
If you're a stomach sleeper, you'd need a firm mattress that provides support to your abdomen without the sinking feeling. A medium firm with light cushioning for the head and shoulders is most suitable, such as pillow top mattresses. Say goodbye to back pains!
A pillow top mattress has a soft top layer stitched or glued in which enhances its plushness. This layer is usually made of high density foam which is soft yet supportive. The coil layer underneath is responsive and bouncy, providing support while also promoting airflow to make the mattress cool and breathable, becoming a mixture of support and cooling fluffiness.
Bonus Features
Finding the perfect mattress doesn't seem so farfetched now does it? Apart from the mattress' base, many mattresses come with extra features which help to counter other common problems you might face.
For instance, cooling gel in mattresses helps in absorbing heat away from your body. The gel comes in bead and liquid form, sometimes mixed in with the mattress or kept in a top comfort layer.
If you're someone who prioritizes convenience, opt for a mattress with removeable covers so it is easier for you to clean your mattress.
Prone to allergic reactions or have young children? Opt for a hypoallergenic mattress! They are dust mite-resistant, anti-allergy and antibacterial.
At the end of the day, the perfect mattress is based on your preference, so take your time to test out the different kinds of mattresses and feel free to ask your chosen retailer for questions to find the best fit for you. Find your perfect mattress at BEDANDBASICS today!
Find out more tips & tricks for good sleep with our blog, 'How to transform your bedroom into a cozy haven'